Why you should be eating salads for breakfast
Move over porridge! Breakfast salads are the best way to start your day, discovers Louise Pyne.
Science is constantly changing its mind on so many health topics, and it's no different when it comes to the subject of breakfast. The first meal of the day was once lauded as the most important but, in recent years, trends such as intermittent fasting have meant that breakfast has taken a back seat. Now, however, eating in the morning is firmly back in the spotlight thanks to the latest TikTok trend for "breakfast salads".
As an antidote to sugary cereals and greasy fry ups, breakfast salads are all about kickstarting the day with savoury ingredients that offer the most bang for their buck. Chock-full of vitamins, minerals and antioxidants, executed the right way, breakfast salads are nourishing, flavoursome and will help you ace your health and fitness goals.
Benefits of eating salads for breakfast
Savoury breakfasts are nothing new; rewind a few years and grain bowls (made with a base of complex carbs such as barley and spelt) were sweeping social media, whilst oats, whether it be a warming bowl of porridge or a fruity Bircher muesli, has always been at the forefront of healthy brekkies.
But breakfast salads offer something new: the opportunity to fill up on nutrient goodness without going carb heavy, which can be useful if you're striving to lose weight or stay lean. 'Starting your day with a salad sets a positive tone for the day and helps you have a nutrient-rich start, which can also influence your choices later in the day. You can include many different types of vegetables and salad ingredients, helping you to get a head start on consuming your five-a-day,' says Ro Huntriss, founder of Fertility Dietician UK.
Should I eat breakfast before exercising?
In recent years, the trend for eating within a fasting window has seen a growing number of us ditch breakfast in favour of refuelling later on, and a study from the University of Illinois Chicago backs up the effects, with recent research highlighting that intermittent fasting is as effective as calorie counting for weight loss. But, if you're exercising, the big question is whether you should work out before or after chowing down on a plate of greens? 'Exercising in a fasted state may have the potential to promote fat burning, due to the reliance on stored fat, since by not having breakfast, your energy reserves will be lower,' says Ro.
But while this may be true in the short term, it is important to note this may not affect long-term fat burning. 'For women, regularly exercising in a fasted state has the potential to interfere with hormones, so exercising in a fed state, i.e. after breakfast, may be a better option for a woman's overall health,' she adds. There is no one-size-fits-all solution so you should ultimately listen to your body and see whether your performance is improved when exercising before breakfast or after eating.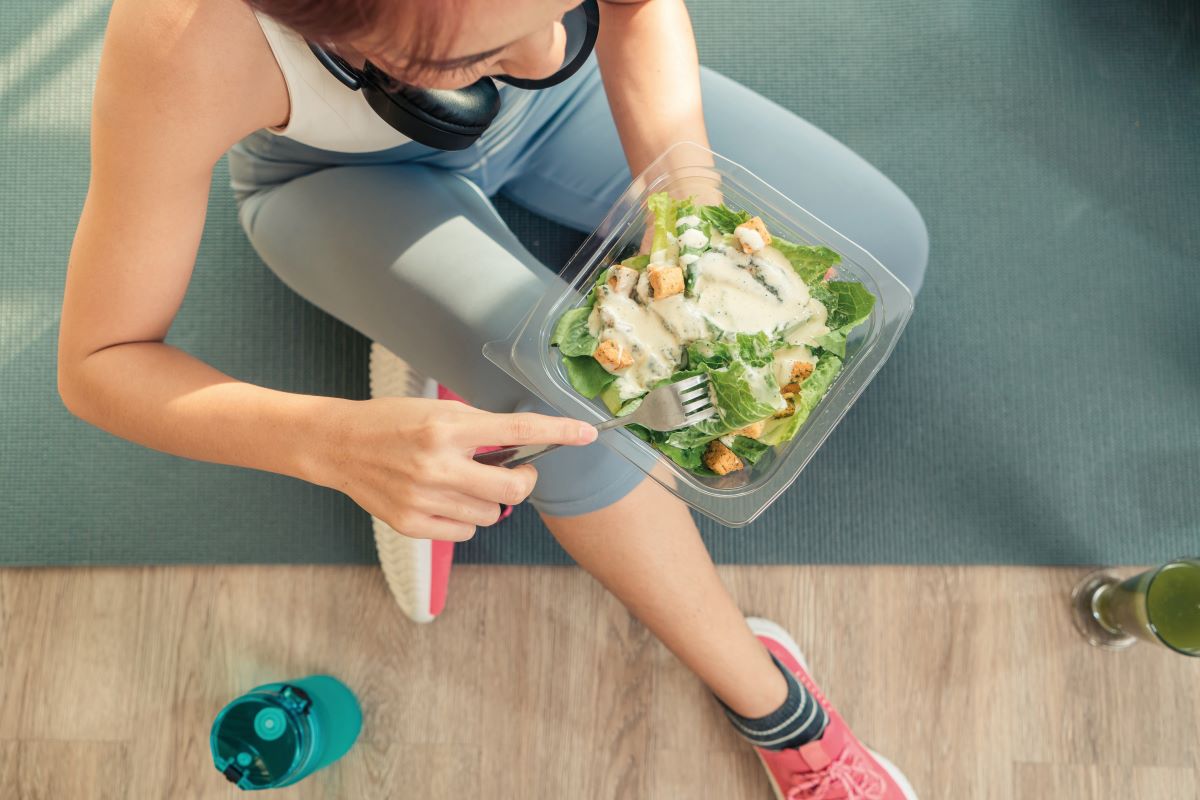 How to make breakfast salads
There are some golden rules that will help you get the most out of breakfast salads. 'You can customise your salads so that no two days are the same,' says Ro. Keep in mind macronutrient groups, ensuring to pile up on protein to aid muscle repair and good fats to
keep your joints supple along with small amounts of carbs on moderate intensity exercise days to replenish energy stores; in fact, a well-balanced breakfast salad can easily replace a pre-workout snack or post-workout shake (depending on whether or not your workouts are scheduled according to a fasting window). 'Salads allow you to create a well-balanced plate that includes whole grains, proteins and heathy fats,' she adds. You can also elevate humble ingredients with a simple glug of olive oil or jazz them up with everyday cupboard staples like honey, tahini, lemon juice and garlic. The possibilities are endless!
3 breakfast salads to fuel your day
These simple 5-ingredient salads offer a great start to your morning.
Nourish your gut
Ingredients
3 tbsp kimchi
1 small can of tuna
50g cucumber
150g rocket leaves
2 tbsp roughly chopped cashew nuts
Method
Place the rocket leaves in a. bowl.
Grate the cucumber and combine with the can of tuna and then add on top of the rocket. Layer the kimchi on top and dress with 1 tbsp avocado oil.
Decorate with 2 tbsp chopped cashew nuts.
Enhance energy
Ingredients
2 poached eggs
150g mixed salad greens
80g cooked quinoa
1 small avocado
5 cherry tomatoes
Method
Slice the avocado and cherry tomatoes and place on a bed of mixed salad greens and quinoa.
Drizzle with 1 tbsp olive oil and top with two poached eggs.
Boost immunity
Ingredients
2 small bell peppers (yellow and red)
150g kale
1 large carrot
60g feta cheese
1 cooked beetroot
Method
Dice the peppers and place on a roasting tray with the kale. Cook at 180C until the kale is crispy and the peppers are soft.
Place the kale and peppers in a bowl. Grate the carrot and add on top.
Slice the beetroot and add to the ingredients.
Crumble in the feta cheese and dress with 1 tbsp each of lemon juice and olive oil.
Words: Louise Pyne. Photography: Shutterstock.