The Ranch Italy: hiking, fitness and spa time
Hike your way to a healthy body and mind at the A-list fitness retreat, The Ranch Italy, says Mary Comber.
'Acqua, acqua, acqua!' My walkie-talkie crackles into life, startling me as I tread through the silent, misty forest. Our cheerful hiking guide – speaking to guests via walkie-talkie so we can walk at our own speed – is reminding us to 'hydrate, hydrate, hydrate!'. I follow his prompt and hastily take a few, thirsty glugs from my hydration pack, then pick up my pace. It's my second day at luxury fitness retreat, The Ranch Italy, and we're midway through our early morning, four-hour mountain hike.
As we emerge from the ancient beech forest, the track steepens and soon the only sound is my pounding heart as I scramble up the twisting, rocky path. 'Breathe! Enjoy the nature!' urges our guide. I take a moment to catch my breath and soak up the glorious mountain views, a veil of early morning mist shrouding the valley below.
The Ranch Italy: an A-list escape
The Ranch Italy is the new European outpost of Hollywood's favourite fitness camp, The Ranch Malibu. For 10 years, this famous retreat has been transforming bodies and minds with its programme of tough daily hikes, body-conditioning classes, yoga and strict 1,400-calorie, vegan diet. Rebel Wilson and Michelle Obama are said to be fans.
Now, The Ranch Italy has arrived at Palazzo Fiuggi, a stunning spa hotel in the ancient spa town of Fiuggi, in the foothills of the Apennine Mountains (an hour from Rome). I can't wait to try it and sign up for The Ranch 4.0, a four-day stay combining the classic plan with state-of-the-art medical testing and spa time.
Pre-arrival training
A month before my stay, The Ranch's '30-Day Pre-Arrival Package' lands in my inbox. It includes strict instructions of what not to pack – food, sweets, sugar-free gum and energy gels, and I swiftly abandon my plans to take a stash of emergency snacks! There's also a 'strongly recommended' four-week training plan. Eek.
I throw myself into the prescribed hill training, press-ups and squats while attempting to wean myself off sugar and processed foods – thankful I don't drink coffee or alcohol. By the time The Ranch's limo sweeps me up the drive to beautiful Palazzo Fiuggi, I'm feeling decidedly fitter and ready for action. Clearly, the Ranch is already working its magic.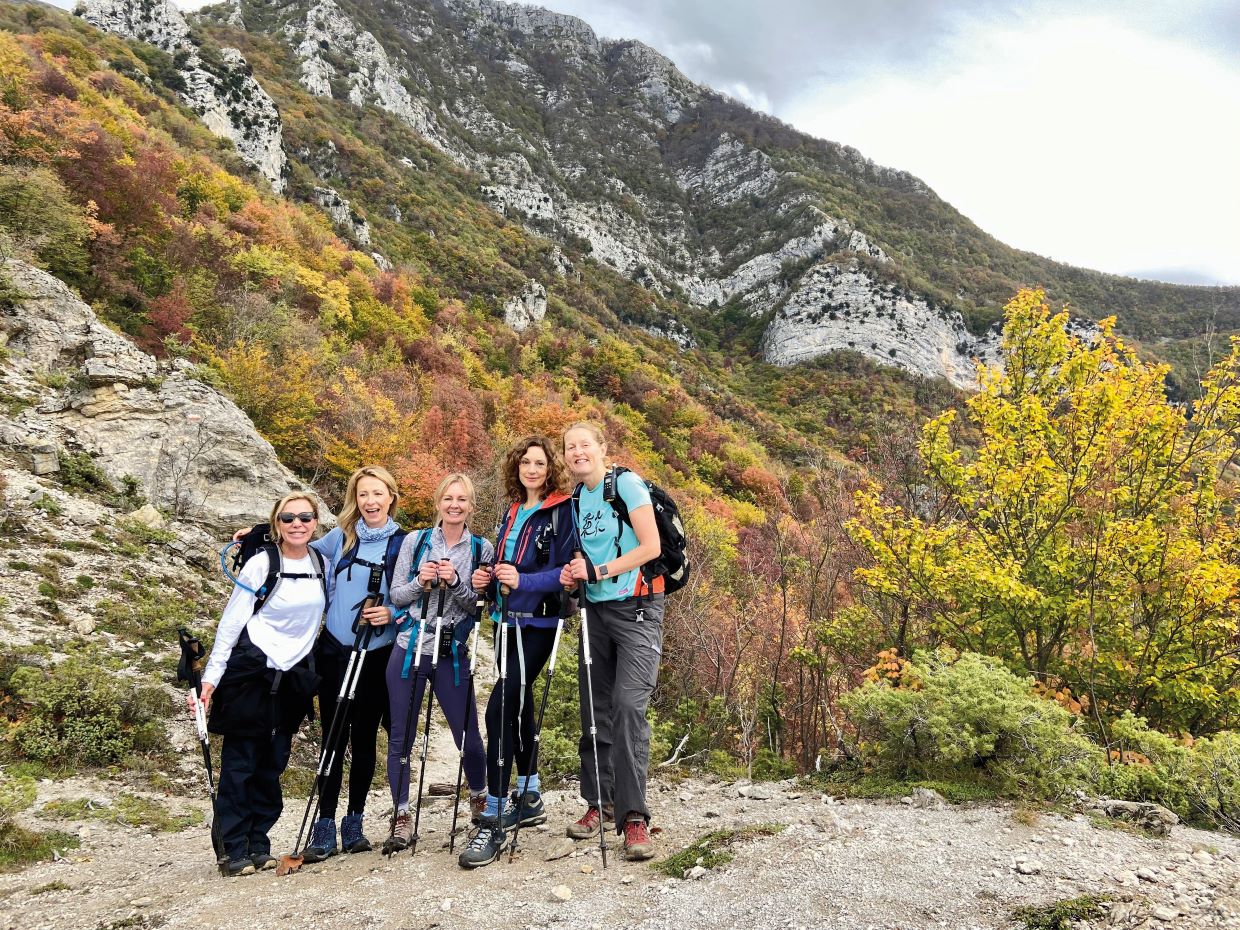 Healthy hiking
On arrival, I'm whisked up to Palazzo's gleaming medi-spa for a weigh-in and ECG, plus extensive blood and urine tests. I'm declared fit to hike and will get my test results during a mid-stay medical with Palazzo's doctor. The Ranch isn't just about weight loss, although the average Rancher loses three-to-six per cent of their body weight. 'It's about losing fat and gaining muscle, energising your body and learning about balanced living,' explains a Ranch staffer during our welcome chat.
Inside the hotel's private wing – all cool, Californian-style interiors with sweeping views of Fiuggi – I meet my fellow Ranchers for dinner. We're an all-female group of Brits and Americans, aged 20s-60s, including a chef wanting to lose weight and a young business exec on her annual fitness adventure.
Gathering around the communal dining table, we eye our plates of pristine, green salad. 'Don't panic, it's just the starter,' laughs our host, Livia. The leafy mix is surprisingly delicious, as is the aubergine 'Parmigiana' with macadamia ricotta that follows. After dinner, we chat over cups of herbal tea. By 9pm, we're tucked up in sumptuous beds, ready for an early start.
Sunrise workouts
My alarm call comes at 6:00am. 'Good morning Mary. Time to get up!', coaxes the gentle voice. I stumble down to The Ranch's fitness studio, just in time for the 6:30am stretch class. Thoroughly warmed up, we breakfast on bowls of The Ranch's delicious granola.
By 7:30am we're in our hiking kit and pile into The Ranch's sleek Mercedes vans which sweep us into the mountains. During our hikes, we're scaling elevations of more than 2,000m through forests and meadows, along ancient pilgrimage routes and up to mountain-top monasteries. Each round trip is measured by time (four hours) not distance, and marked with orange flags that, along with the walkie-talkies, let us go at our own pace.
As we reach today's summit, our guide hands round The Ranch's signature snack – six almonds with black salt. Hungrily, I wolf them down, only to realise we're meant to chew each one mindfully! By the time we're back down the mountain, our limbs are weary and tummies rumbling but we're happy Ranchers, energised by the fresh air and proud of our bodies' achievements.
Fitness fuel
Back at the hotel, we refuel on hearty, lentil soup with almond focaccia. I'm surprised how satisfying the meals are, given we're eating only 1,400 calories a day. On my first night, I'd woken at 2am with hunger pangs but now my appetite is stabilising. Livia explains the nutritionally dense dishes (prepared by Palazzo Fiuggi's three-star Michelin chef) cleanse the body, reduce inflammation, stabilise blood sugar and aid weight loss while fuelling our energy. We soon discover extra portions can be procured when we're particularly hungry and there's a fruit bowl for when sugar cravings hit.
After lunch, it's nap time and we retreat to our rooms or The Ranch's beautiful lounge to recharge for 3pm strength training. It's a fun, upper-body session (our legs definitely need a rest!) with Palazzo Fiuggi's personal trainer and we're rewarded with a post-workout banana muffin. Then, at 4pm, comes yoga, a lovely, restorative class in the candlelit studio.
Spa time at The Ranch Italy
Our day's work done, we hotfoot it to Palazzo Fiuggi's vast, jaw-droppingly beautiful spa to wallow in the endless, indoor and outdoor pools, brave the hot-and-cold Kneipp bath (great for circulation), and relax in the sauna or Himalayan salt chamber. Those with excess energy visit the stunning, 4,300 square-foot gym (complete with reformer Pilates) in Palazzo Fiuggi's ballroom.
Everyone's favourite moment is our heavenly, daily massage from the Ranch's skilled therapists who magically ease every ache, leaving us ready to hike another day. By the end of our stay, we're feeling fit, strong and supple, and inspired to continue our new, healthy habits back at home.
Travel facts: The Ranch Italy
The Ranch Italy 4.0 (four nights/five days) costs from $4.950 per person (double), including daily hikes, fitness classes, massage, meals, snacks, medical tests and consultation, spa facilities, transfer. Visit theranchmalibu.com
Photography: The Ranch, Mary Comber