REVIEW: Wyndham Residences in Costa Adeje, Tenerife
Looking for a holiday that's a home from home? Lucy Miller visited Wyndham Residences in Costa Adeje, Tenerife for a touch of luxury.
It's easy to think that there's no such thing as an easy life when travelling with two little ones. Think: single mum with one excited six-year-old, one nine-year-old and luggage for three! The thought can feel pretty daunting. Am I going to have time to relax? Where and how will I do a workout? What I discovered is that, when you're at Wyndham Residences in Costa Adeje Tenerife, you can almost guarantee an easy life – and a sunny one at that!
Going on a hiking holiday? Discover the best hiking boots for women
Try the INOV-8 Roclite Pro G 400 GTX
BUY IT NOW:
$245 / £252 / inov-8.com
A welcome arrival in Tenerife
When the taxi driver told me we had just a 15-minute transfer from the airport, you could hear my sigh of relief. The flight from London Gatwick to Tenerife South may have only been four hours, but there's nothing worse for kids than another long journey. Thankfully, we arrived at our superior two-bedroom apartment in good time, and headed straight to the on-site restaurant for a welcoming atmosphere of live music and a vast menu of scrumptious Mediterranean dishes (with plenty of options for the little ones).
With bellies full, it was straight back to the room, where the kids jumped excitedly into our private hot tub. With a view of the ocean and the local town of Playa de las Americas in sight, they had the most fantastic first night while Mummy unpacked and had a much-needed sit down.
Related: Club La Santa, Lanzarote review: sports, food & family fun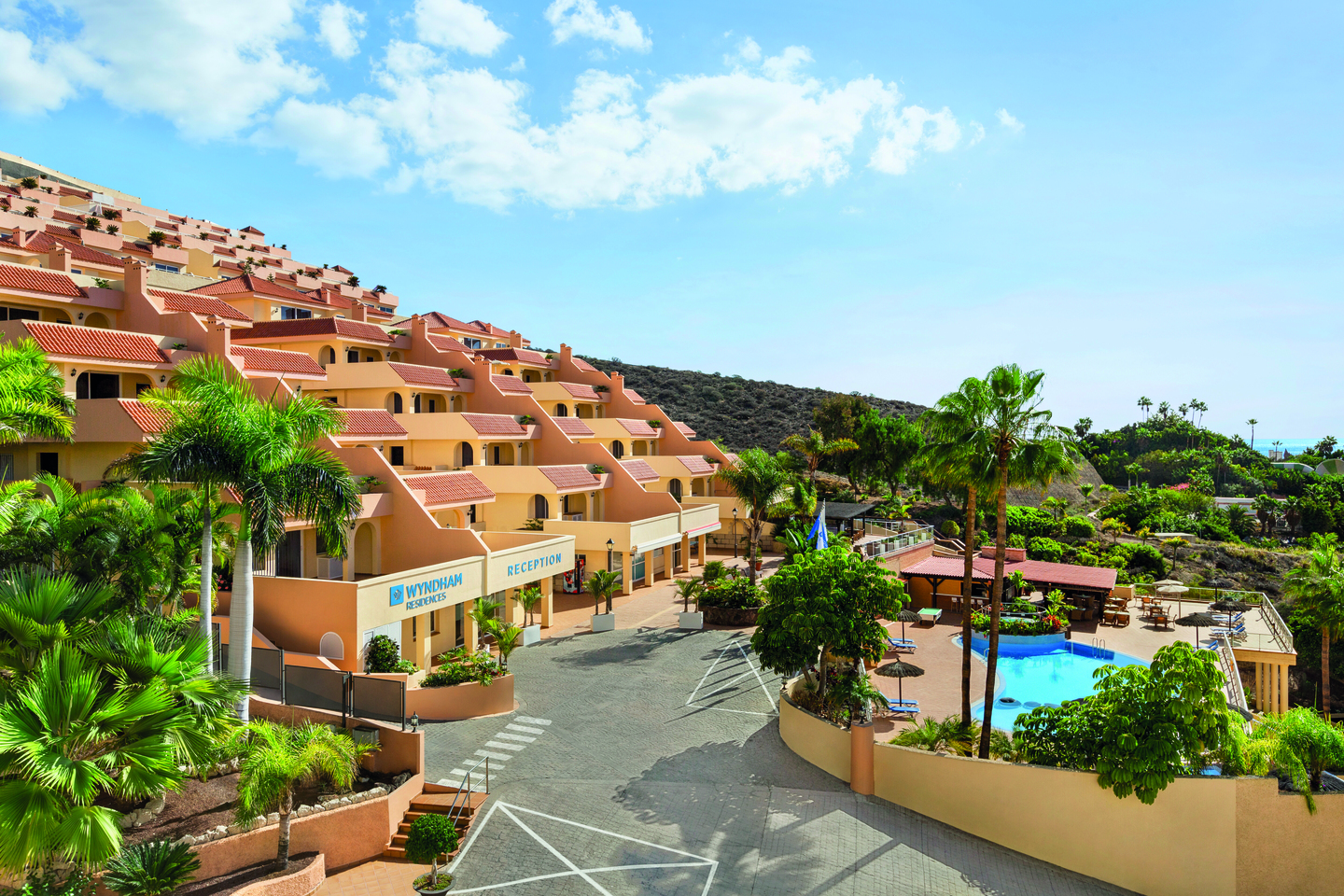 Spacious accommodation with ocean views
Set on a hillside between the mountains and ocean, there's a great selection of accommodation at Wyndham Residences, ranging from a one-bedroom apartment that sleeps four, to a superior three-bedroom apartment that sleeps eight, complete with hot tub. Whichever room you choose, they all come with a private balcony and an ocean view. They also have a large kitchen and homely living space.
The kids loved the high-spec apartment, which gave them plenty of room to roam. Instead of rushing down for breakfast and to the pool, they were more than happy to eat fresh croissants from the on-site shop, Sam's Pantry, and enjoy either dining inside or on the balcony. The area felt so calming and familiar that the little one even asked for a daily afternoon snooze!
The apartment also had a bathroom with a walk-in shower for the kids, and my bedroom was equipped with a separate toilet, shower room and huge jacuzzi bath. There were TVs, WiFi, plus Sonos wireless speakers throughout, and excitedly, I was very happy to find a washing machine – an absolute luxury when it came to re-packing for home.
Related: Camptoo Campervan Hire review: how to plan your trip
Fun and fitness at Wyndham Residences, Costa Adeje
Our days at Wyndham Residences could be as relaxing or as action-packed as we pleased. We checked out the activity timetable, and there was a generous kids' schedule, so they could enjoy the Mini Club, meet new friends, and try new sports such as table tennis, pool, snooker, shuffleboard and darts.
With the activities usually starting after lunch, our days consisted of a morning swim followed by lunch at the poolside bar and then a few hours at the kids' club. This was my time to do a workout, or have a leisurely swim. With two pools to choose from, I always went for the quieter, heated option which was surrounded by mountain views.
The resort didn't have a gym, but I did a daily Zumba class, swam and used my living space, which was more than sufficient for an air-conditioned HIIT workout. There were plenty of hills and steps in the hotel grounds, too. We also ventured out on a few days, and walked the beach boardwalks of Playa de las Americas (a 10-minute taxi ride away).
There are plenty of hiking opportunities up and around Mount Teide (the island's volcano), around the histоriсаl сеntrе оf Lа Lаgunа, or through the Аnаgа natural park. My two were a little young for guided two-hour hikes, but it's something we'll explore when they're older.
Another great day out was a day trip to Siam Park waterpark. With views of the park from our balcony and screams to match, we couldn't resist the five-minute walk. We had great fun on the lazy Mai Thai river, and the kids loved The Wave Palace where, every 30 minutes, you get to jump some of the biggest artificial waves I've ever experienced!
Related: Hiking in the Dolomites: best hikes & where to stay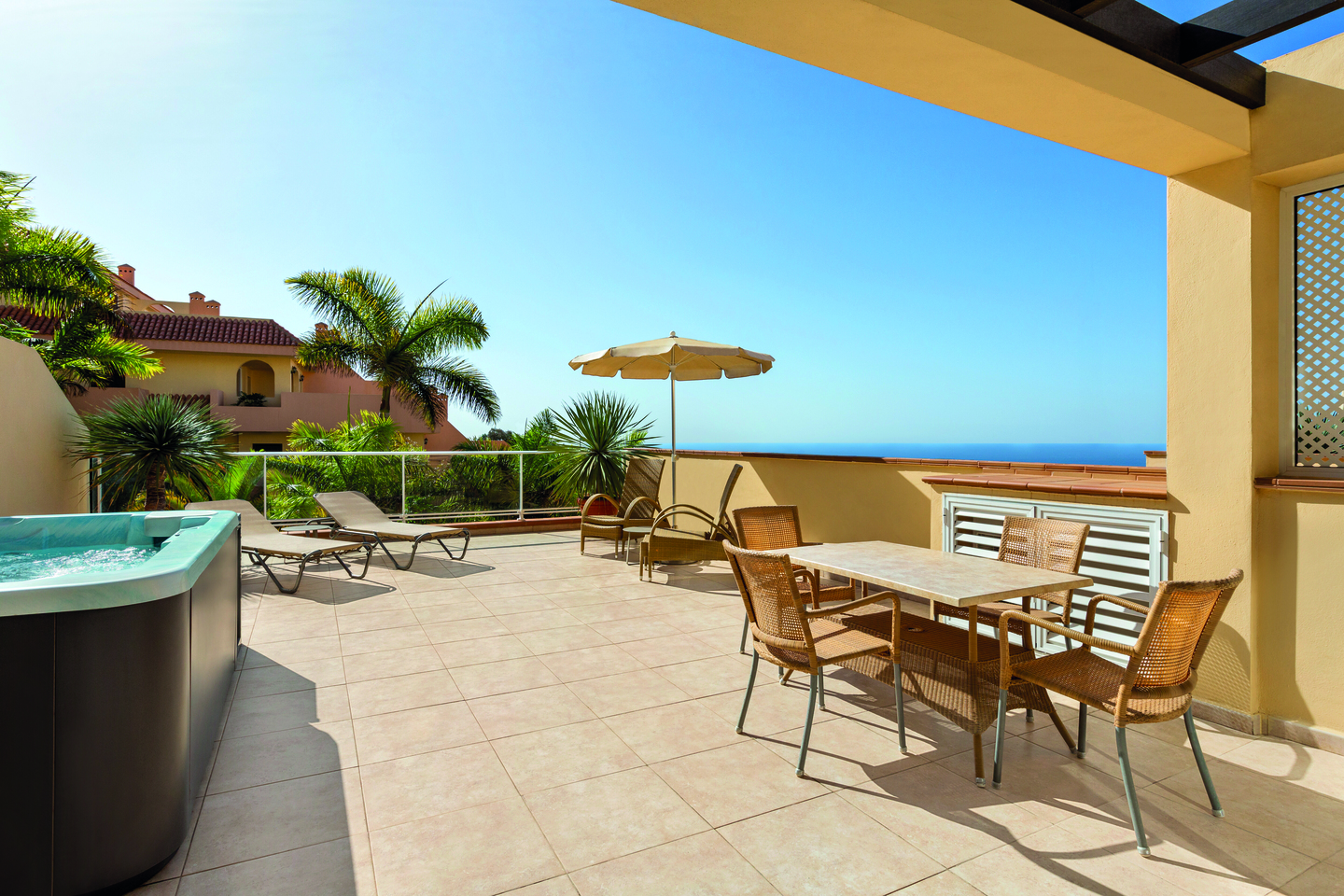 Dining at Wyndham Residences, Costa Adeje
One thing we looked forward to every evening was dinner at the Sunrise Restaurant. As a half-board booking, we had a two-course dinner included every night. The menu was vast, with plenty of healthy options for all, including fish, lean meats and veg. Plus, ice cream treats for the kids and a more sophisticated New York Cheesecake for me.
Lunch is also available on-site at the pool bar, where you could get anything from a freshly whizzed-up green juice, to a prawn and avocado wrap with plenty of salad. The kids also loved getting fresh fruit from the on-site shop during the day, while a night out on the town meant we enjoyed local tapas whilst looking out over the beach.
Wyndham Residences self-catering apartments couldn't be any more different to what we often associate with self-catering holiday resorts. The rooms felt like a home from home, food choices were healthy and delicious, and the resort was not so vast that you don't know where to start. With just two pools, two restaurants, one shop and some kid's activities all in one hub, it's compact and everyone feels like family.
The kids loved the freedom and the familiarity of walking to the shop and not getting lost, and the staff were so friendly. But if you wanted more private time, that's an option, too, because the apartments have all you need to shut yourself away and sunbathe by day, then cook by night. You can do your holiday, your way.
Rates at Wyndham Residences, Costa Adeje start from €90 (around £79) per night. For more information, visit idiliqhotels.com/resorts/wyndham-residences-costa-adeje.