Best sports massage guns for achy muscles
Get ready to say goodbye to achy muscles with a sports massage gun. We review 5 of the best on the market…
If you haven't got one stashed away in a cupboard already, it's only a matter of time before you purchase a sports massage gun. Touted as the new foam roller, these handy tools are typically shaped like a hair dryer and use a percussive pummelling action to stimulate blood flow to workout-worn muscles.
How do sports massage guns work?
'Percussion therapy delivers targeted pulses of pressure that reach both the superficial and deep muscle fibres,' explains Harley Pasternak, global wellness advisor for Hyperice. 'This helps increase blood flow and lymph fluid circulation. It also stimulates nerve receptors in muscle fibres.'
Just think of massage gun sessions as DIY deep tissue massages that will help you to prepare for and recover from tough workouts. Indeed, science supports at-home massage therapy as a great way to boost recovery from exercise: one study from Harvard researchers concluded that percussive massage helps muscles heal faster and stronger.
'The ease of use and fast recovery that these devices provide has made them a staple within the wellness and fitness industries,' concludes Pasternak. Want to give one a go? Here's our pick of some of the handiest devices around. Tired muscles, revived!
Best sports massage guns
Hyperice Hypervolt 2 ($199 / £219, hyperice.com)
Theragun Prime ($299 / £275, therabody.com)
Hyperice Hypervolt 2 ($199 / £299, hyperice.com)
Myomaster MyoPro ($199 / £349, myomaster.com)
Power Plate Mini+ (£149.95, powerplate.co.uk – international distributors available)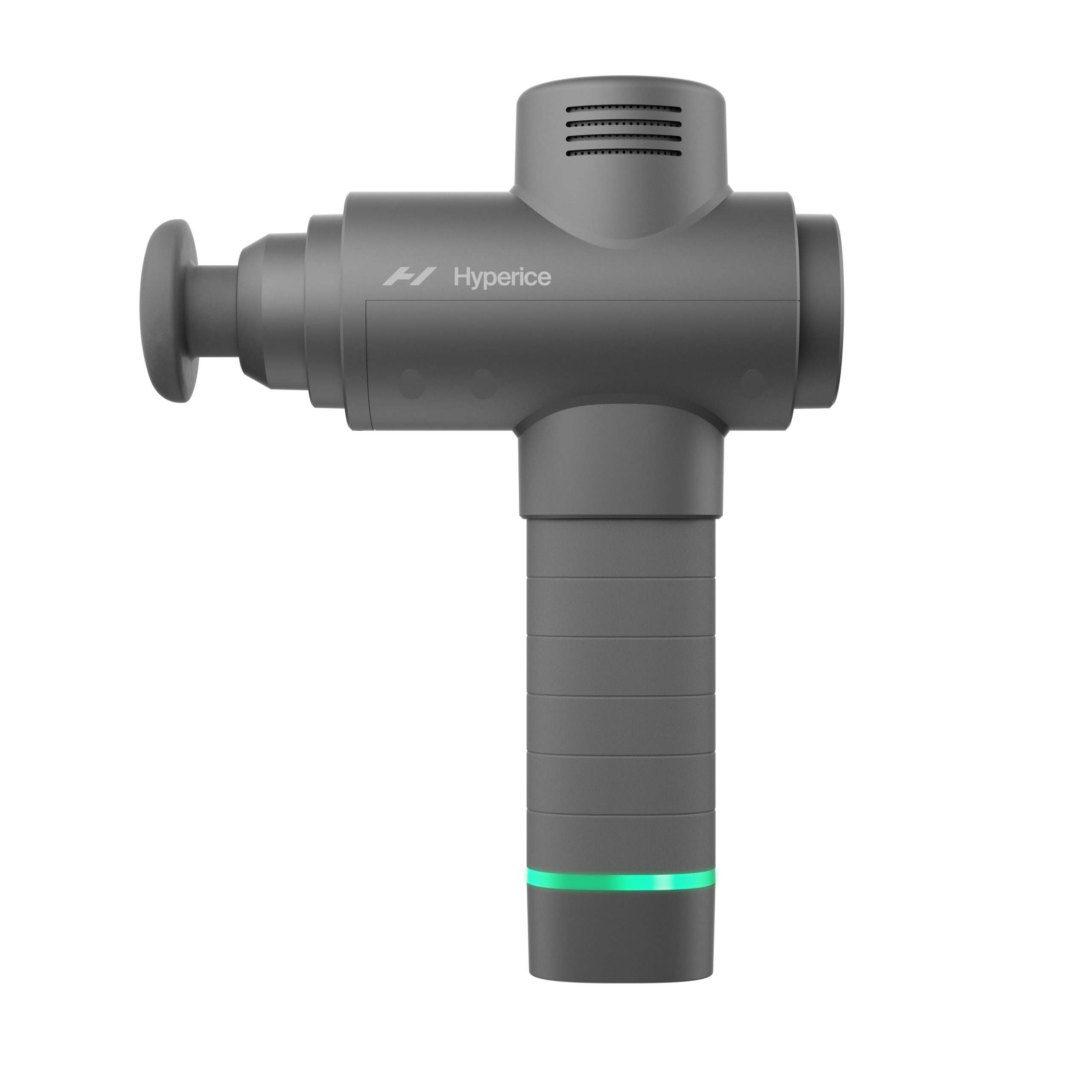 Hyperice Hypervolt 2
BUY IT NOW:
$199 / £219, hyperice.com
Tester, Sarah Sellens, says: 'I'd heard rave reviews about Hyperice products long before I tried the Hypervolt 2 (an upgraded version of the original Hypervolt). Now, I can see why the devices are so popular.
'The Hypervolt 2 is powerful without being hefty, and has some really swanky tech. It comes with three speeds of percussion but my favourite feature is the pressure sensor light. This shows how much pressure you're applying out of a grading of three.
'After years of hard training and niggles, I found the five attachments (fork, bag, cushion, flat, bullet) all necessary. The fork attachment is great for runners because it can massage the Achilles and muscles along the calves and ankles. DIY massage heaven.'
Theragun Prime & Theragun Mini
BUY IT NOW:
$299 / £275 and $199 / £175, therabody.com
Tester, Katy Sunnasse, says: 'I found the Theragun Prime a bit cumbersome: it's heavy and a bit wieldy. However, the new Theragun Mini, which has three speed settings and QuietForce technology, fits perfectly into my palm.
'It works well and feels great on my achy hip and leg muscles, which are tight due to too much sitting at my desk. It's a really neat device, especially if you are nervous about attending a masseuse following the pandemic, or if you're not able to go and have a massage or physio appointment.
'My husband is a personal trainer and he's lent it to some of his clients to use. So far, six of them have bought their own because they were so impressed. I told him he ought to be on commission!'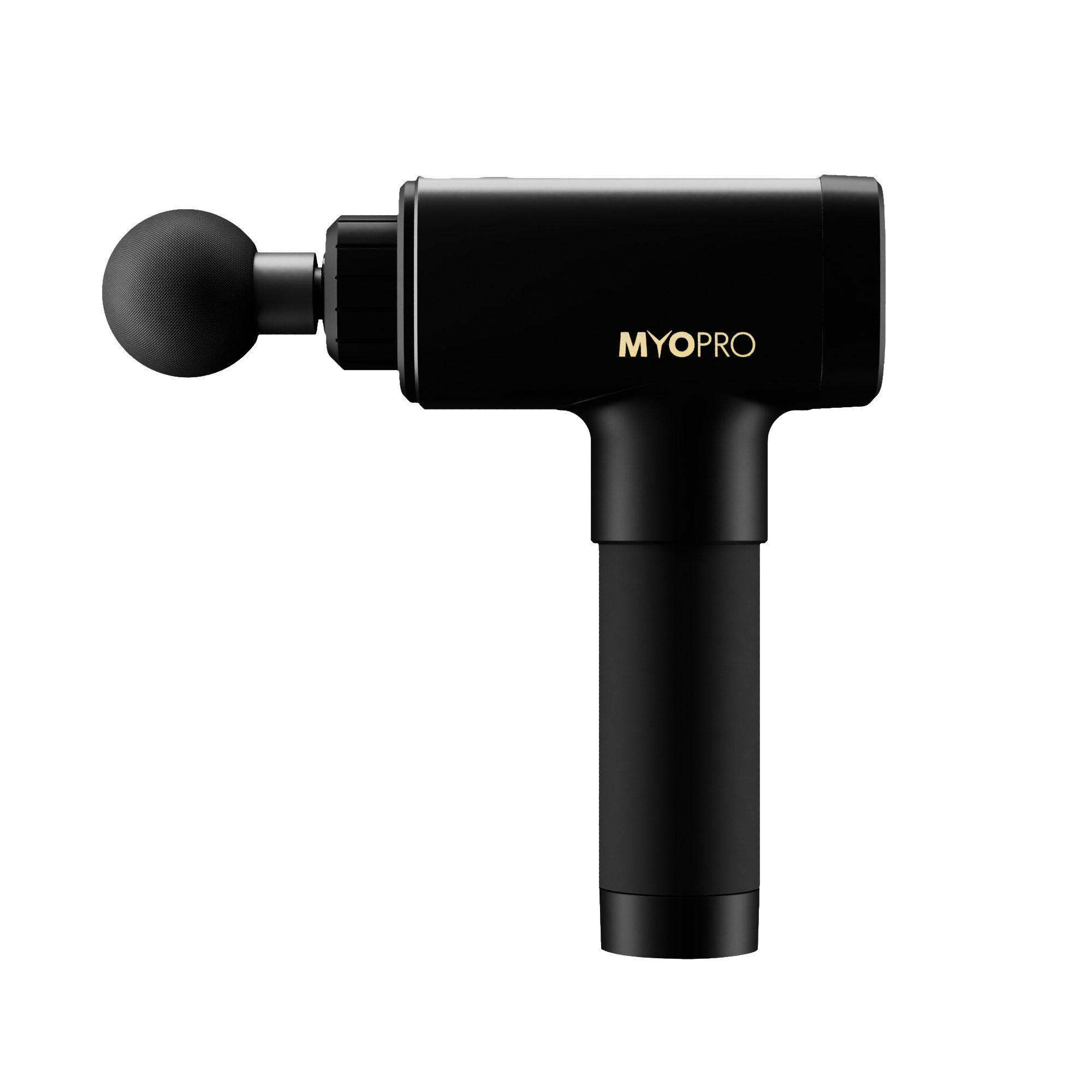 Myomaster MyoPro
BUY IT NOW:
$199 / £349, myomaster.com
Tester, Joanna Ebsworth, says: 'I'd been using a mini massage gun with two massage tips for a year and thought it was great. However, the MyoPro has been a revelation with its eight tips: the world leading XL Scraper (measuring over 120mm) is amazing for IT bands, quads and hamstrings, while the Thumb and Pinpoint tips are perfect for knots. There's a tip to treat every body part, whether you're warming up or aiding recovery.
'Yes, it's pricey, but it comes in a lovely carry case, delivers over 60lbs of massage force and is 40 per cent quieter than your average massage gun, thanks to the Silent Power technology. A worthy investment.'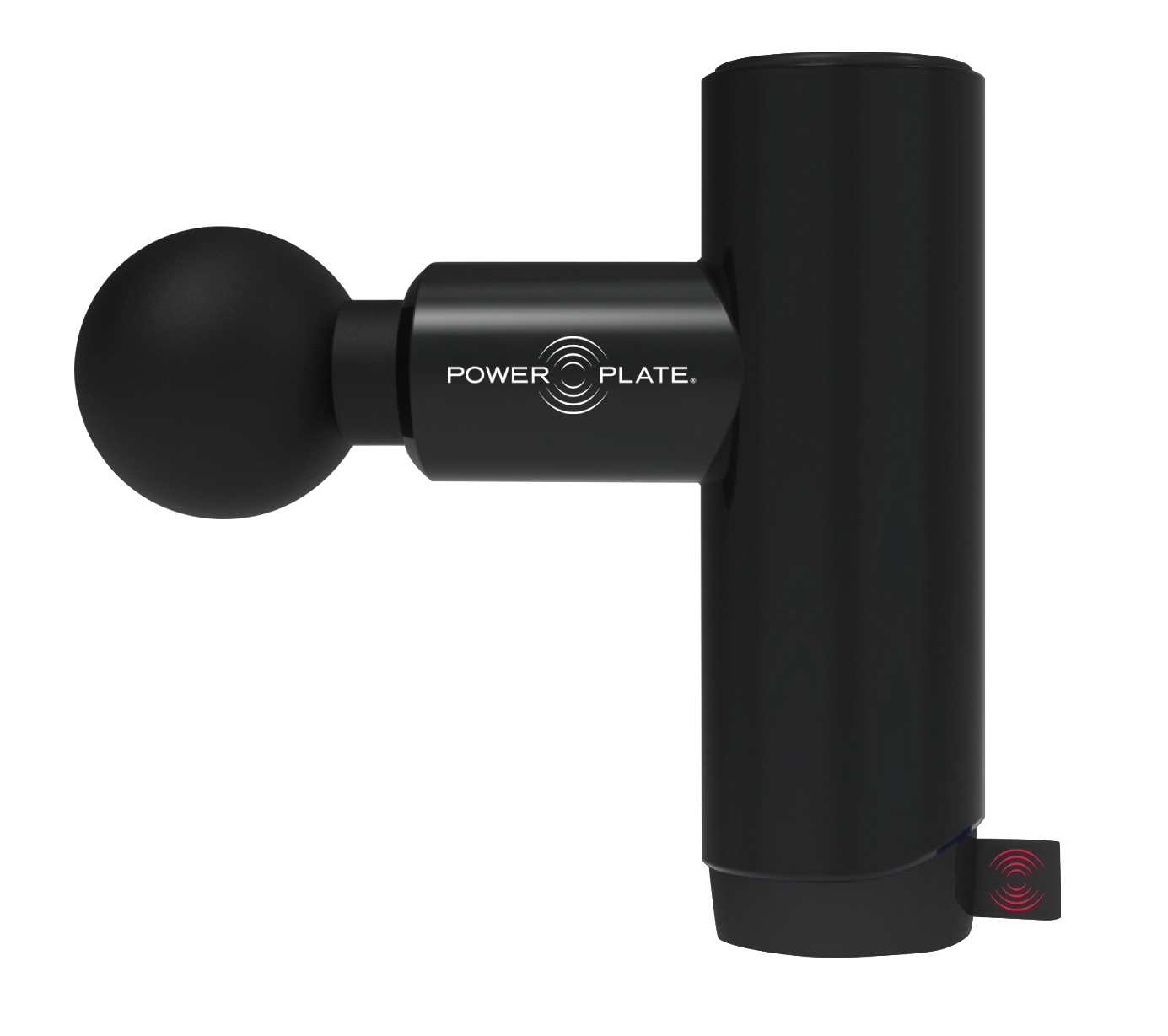 Power Plate Mini+
BUY IT NOW:
£149.95, powerplate.co.uk (international distributors available)
Tester, Sarah Sellens, says: 'For a portable massage gun that you can pack in your gym bag or take away to a sports event for use after a race, look no further than this handheld device. It's really compact and extremely lightweight (435g, compared to 635g for the Hypervolt 2 or 650g for the Theragun mini). Best of all, it's quiet.
'With just two, arguably, most-essential attachments – the ball-shaped attachment for larger muscle groups and the bullet-shaped attachment for trigger points – it's also a great introductory product for those new to massage gun therapy.
'It comes with its own carry case and a USB charger that you can use on-the-go. It's fast become my calf-pummelling go-to for use in the car after a hard run or race.'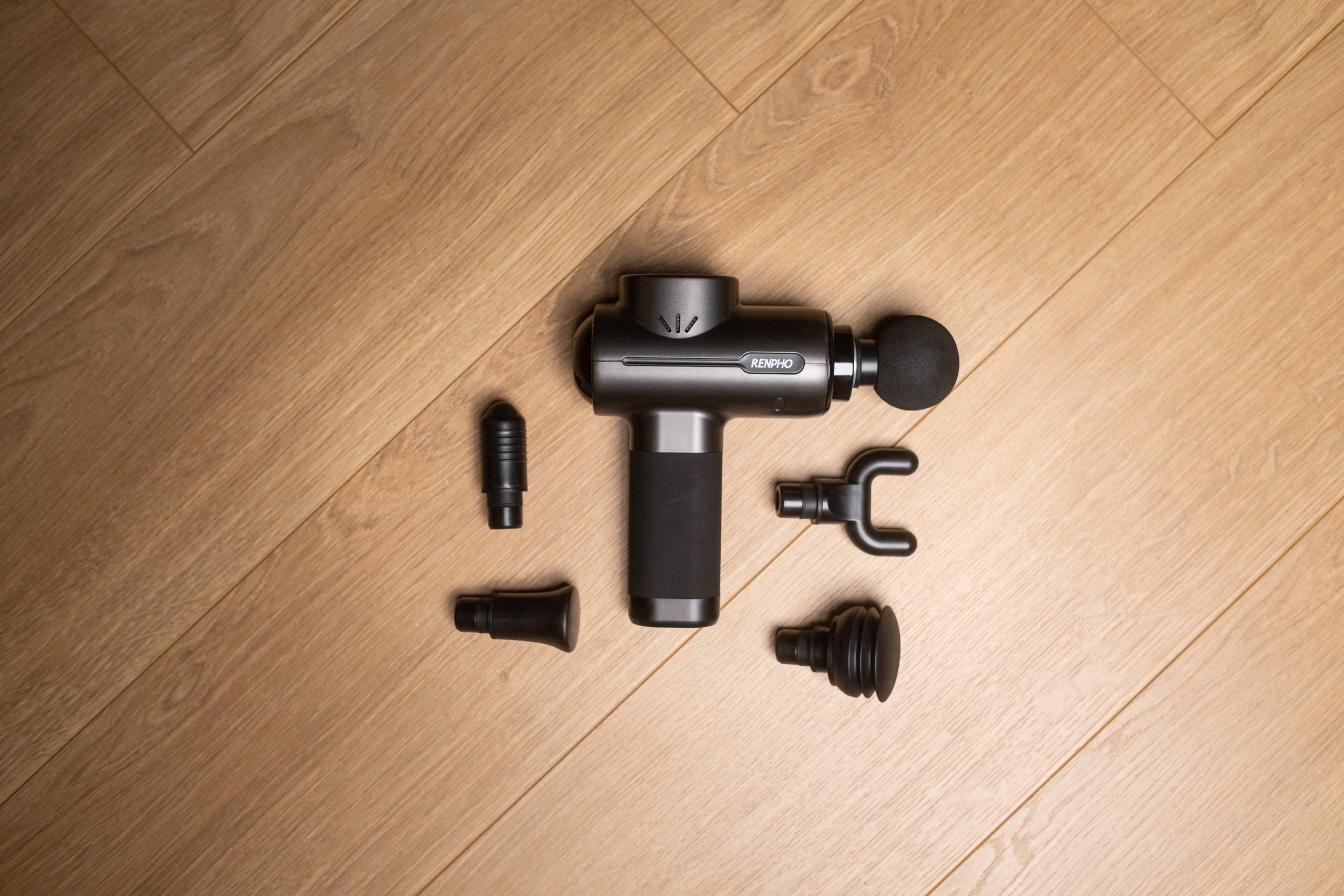 Renpho R3 Mini Massage Gun
BUY IT NOW:
£79.99 / uk.renpho.com
Tester, Lucy Miller, says: 'The Renpho R3 Mini Massage gun looks small and feels light, but don't be tricked into thinking that makes it less functional. With five different attachments (the cushioned head is versatile and can be used on almost any muscle) and five different speeds, it has a lot going for it.
'It comes in a neat little travel bag complete with accessories. It also boasts the flexibility of USB charging, meaning you can plug into your computer and then throw it into your bag for use after a post-work gym session.
'Once charged, it offers around six hours of continuous massage. My muscles felt like they'd had a deep tissue massage, even after use on the lowest setting. And best of all, it's not noisy and costs less than £100!'
Related: 8 ways to boost muscle recovery on rest days